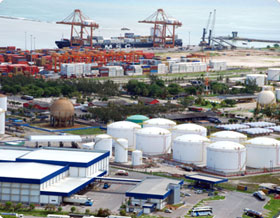 Foto do porto de Suape, ao sul de Recife, um dos mais importantes do Brasil, tendo utilizado o conceito de "hub port" em um complexo petroquímico.
(Fonte: www.suape.pe.gov.br)
Photo of the Suape Port located south of Recife. Considered one of the most important harbors in Brazil, it was conceived as "hub port" within an broader petrochemical and industrial complex attached to it.
(Source: www.suape.pe.gov.br)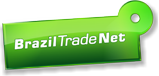 COMÉRCIO
O comércio biltateral entre Malta e Brasil é, relativamente, pequeno tanto sob o ponto de vista de pauta, quanto de volume. Os principais parceiros comerciais de Malta são os países da UE, em especial, o Reino Unido, Itália, Alemanha, França, e extra-UE, são os Estados Unidos e alguns países do Norte da África, em razão de sua localização, e países específicos da Ásia. Malta possui dois importantes portos de porte intermediário e grande: o Porto de Valletta e o Malta Free Port em Marsaxlokk. Ambos oferecem vantagens competitivas para o fluxo de comércio entre o Brasil e todo o mundo mediterrâneo. Malta como entreposto de distribuição e armazenagem para toda a região da Europa, África e Oriente Médio oferece, de forma privilegiada, importante rotas comerciais para empresas brasileiras além de possuir um tratamento tributário bastante atraente para a gama de investimentos do MERCOSUL.
---
TRADE
Bilateral trade between Malta and Brazil is relatively small not only in volume, but mainly in its product structure/composition. Malta's main trading partners are essentially EU countries, such as UK, Italy, Germany, and France, and its extra-EU partners are the United States, some Northern African countries and specific Asian countries. Malta has two major ports of medium and large size ranges: the Port of Valletta and the Malta Free Port in Marsaxlokk. Both ports offer competitive advantages for the flow of trade between Brazil and the Mediterranean world. Malta as an important logistics center for warehousing and distribution can attract Brazilian companies and can also offer significant MERCOSUL investments due to its national tax structure advantages.