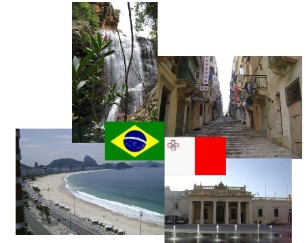 Itamaraty - Ministério das Relações Exteriores do Brasil

The Brazilian Ministry of Foreign Affairs (Itamaraty) site

Palazzo Parisio em Valletta - Ministério das Relações Exteriores e Promoção Comercial de Malta (MFET)

Palazzo Parisio in Valletta - Malta's Ministry of Foreign Affairs and Trade Promotion (MFET)

____________________________________________________
MALTA E BRASIL
Malta e Brasil são países de dimensões geodemográficas bastante distintas, porém estão unidos por grandes potencialidades e complementariedades. O Brasil é o quinto país em área do mundo com 8,5 milhões de km2, sendo o maior país em extensão da América Latina, enquanto que Malta é o menor dos países-membros da União Europeia com 316 km2. Com cerca de 205 milhões de habitantes, o Brasil contrasta com a população de Malta de, aproximadamente, 450 mil habitantes. Enquanto que o português é a única língua oficial do país e idioma amplamente falado do Brasil, Malta é um país que possui duas línguas oficiais: o inglês e o maltês - uma língua de raiz semítica. Há, em contrapartida, muitas semelhanças entre os dois países: ambos são multiétnicos e multiculturais onde, harmoniosamente, convive uma sociedade plural unida por um amplo mosaico de heranças históricas e culturais. Brasil e Malta partilham a fé cristã católica como predominante da população. Embora ambos sejam democráticos e republicanos, o sistema de governo parlamentarista de Malta se diferencia do presidencialismo brasileiro. Ambos são países que buscaram a integração regional competitiva como forma de ampliar seus mercados geoeconômicos no contexto da União Europeia com relação à Malta e, no caso do Brasil, no âmbito do Mercosul e da Unasul.
Malta, com sua localização no centro do Mediterrâneo, projeta-se como um ponto estratégico de entrada de várias empresas brasileiras no mercado europeu pelo ambiente proativo além de representar eixo de comércio marítimo e transbordo com todo o Norte da África, com o Oriente Médio e Ásia. Neste rico universo de muitas complementariedades em um amplo e fascinante contexto de diversidade é que um conjunto de oportunidades pode ser visualizado, gerando cooperação e dinamismo econômico, comercial, cultural, social e de interação político-diplomática.

O Nordeste do Brasil, em especial, o Estado de Pernambuco, oferece várias oportunidades estratégicas de investimentos e cooperação para Malta no campo da construção civil assim como no contexto industrial, petroquímico, naval, siderúrgico e de economia de serviços com centralidade para o turismo.
Para maiores informações sobre o perfil mais detalhado com dados e fatos de ambos os países, apresentamos o relatório em pdf da CIA World Factbook (em inglês) do Brasil e de Malta. Favor clicar no nome desejado para acessar esse conteúdo.

---

MALTA AND BRAZIL
Malta and Brazil are countries with very different geodemographic dimensions, but both are united by great potentials and complementarities. Brazil is the fifth largest country in area in the world with 8.5 million km2 and the largest country in Latin America, while Malta is the smallest member-state of the European Union with 316 km2. With approximately 205 million inhabitants, Brazil contrasts with the population of Malta of approximately 450 000 inhabitants. While Portuguese (Brazilian Portuguese) is the official idiom and widely spoken language of Brazil, Malta is a country with two official languages: English and Maltese - a semitic language. There are, however, many similarities between the two countries: both are multiethnic and multicultural where harmoniously coexist a plural society united by a broad mosaic of historical and cultural heritages. Malta and Brazil share Catholic faith as the major religion of both countries. Although they are both democratic and republican, the parliamentary system of the government of Malta differs from the Brazilian presidential political structure. Both countries are seeking competitive regional integration as way to expand their geoeconomic market strategies in the context of the European Union and the Eurozone for Malta and, in the case of Brazil, in the integration scheme of Mercosur and Unasur.
Malta, with its localization in the heart of the Mediterranean, projects itself as a strategic point of commercial entry for several Brazilian companies in the European market due to its proactive business environment and its tax advantages. Moreover, Malta represents an axis of maritime routes and transshipment for North of Africa, the Middle East and Asia. In this rich universe of complementarities within a wide and fascinating diversity context there is a set of opportunities that can be portrayed, which can generate cooperation and a dynamic economic, commercial, cultural, social and political-diplomatic interaction.
The Northeastern Region of Brazil, especially Pernambuco State, offers various strategic opportunities for investments in the areas of broad industry cooperation, petrochemicals, civil engineering, naval industry, steel manufacturing and in the segment of service-sector economy with emphasis on tourism.
For more information on the detailed profile for both countries, it is provided the CIA World Factbook report on Brazil and Malta. Please click on the country above for the pdf file in English.