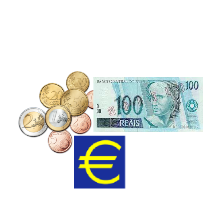 Site da Finance Malta.
Finance Malta Webiste.

Ministério da Fazenda do Brasil.
Brazilian Ministry of Economy.
PERFIL ECONÔMICO
Embora o perfil econômico de Malta e Brasil seja bastante distinto em razão de suas dimensões, há campos variados de cooperação, interação produtiva e intercâmbio econômico-financeiro. O Brasil integra os BRICS (Brasil, Rússia, Índia, China e África do Sul) e é um dos principais membros do G-20, possuindo uma economia industrial e diversificada. O Brasil está entre os nove maiores PIBs do mundo com tendência de ser a quinta maior economia até meados da presente década, oferendo um mercado competitivo com fundamentos macroeconômicos sólidos com estabilidade monetária. De forma crescente, ambas as economias estão se direcionando para integração com redes complexas de empresas e mercados mais amplos e geograficamente distribuídos com inserção econômica internacional competitiva no contexto da globalização produtiva. Malta com um PIB estimado, em 2010, em 10,4 de bilhões de dólares (5,9 bilhões de euros) pela paridade do poder (renda per capita de 25.000 dólares) de compra, e o Brasil com um PIB estimado em 2,1 trilhões de dólares, de acordo com dados da CIA World Factbook, são países que podem ter grandes viabilidades e parcerias em razão de suas localizações geoestratégicas tanto para a União Europeia (UE) quanto para o MERCOSUL e para a UNASUL. Há, portanto, um perfil econômico de estabilidade com atração de grandes interesses para ambos os países.
Um dado econômico de Malta de relevo diz respeito à tendência de aumento da fatia do produto interno bruto (PIB) para o setor dos serviços, isto é, a economia terciária. Dados do Finance Malta - órgão oficial do país - confirmam que, atualmente, Malta já possui 12% de sua economia no setor de serviços com possibilidade de duplicar essa porcentagem nos próximos cinco anos.

Missões empresariais e comerciais cumprem um papel importante no fomento de redes de contatos e de negócios efetivos. Dessa maneira, o consulado pode servir de ponte para a realização das mesmas. As Câmaras de Comércio, as entidades de classe, as federações de indústria, bem como os bancos centrais e demais órgãos da administração governamental podem e devem interagir mais com o intuito de fomentar o desenvolvimento das relações econômicas, financeiras e comerciais entre Malta e Brasil, gerando grande dinamismo e vitalidade entre os empresários, investidores e os cidadãos.
---
ECONOMIC PROFILE
Although the economic profile of Malta and Brazil is substantially distinct due to its dimensions, both countries offer several areas for cooperation, productive interaction and economic-financial exchange. Brazil is part of the fast-growing BRICS (Brazil, Russia, India, China and South Africa). Moreover, Brazil is one of the most active members of G-20 and it has an emerging market with an industrialized profile. Brazil is the nineth largest gross domestic product (GDP) in the world today with the trend of becoming the fifth largest economy by the middle of this decade, therefore portraying a broad and diversified market economy with stable currency and solid macroeconomic foundations which are key factors for Maltese / European investors. Both countries are increasingly moving to broad and geographically diversified business networks and markets in the context of productive globalization. Malta, with an estimated GDP in 2010 of 10.4 billions US dollars (5.9 billion euros) in purchase power parity terms and a per capita income of nearly 25,000 dollares, and Brazil, with a GDP of 2.1 trillions US dollars (PPP), in accordance with CIA World Factbook, are countries that can have offer important complementarities due to its geopolitical and geoestrategic location in terms of competitive entry into the European Union (EU) and into MERCOSUL and into UNASUL. This is thus an overall economic profile of great interest with economic stability for both the countries.

A significant economic fact is the growing share trend for service-sector economy of Malta. Nowadays, according to Finance Malta, 12% of Maltese gross domestic product (GDP) is in the third sector (service sector) economy. It is expected that this figure will double in the next five years.

Commercial and Business Missions play a pivotal role in establishing network channels to enhance bilateral trade. As such, the Consulate of Malta in Recife can aid in buliding bridges to consolidate these bilateral missions. Chambers of Commerce, federation of industries, interest groups as well as the central banks and government agencies of Malta and Brazil can seek greater interaction, generating thus economic, commercial and financial dynamism and vitality between entrepreneurs, investors and citizens of both countries.